---
Previously we've talked about light neutrals, but often, a little more depth is required to make an impression that shows up through the natural shadows of a space. We've put together the top 10 Benjamin Moore mid-toned neutral colours; the goldilocks of neutrals if you will, not too light and not too dark! Whether it's for throughout the home or a singular room, there are ten perfect choices for any every space.
HC-80 Bleeker Beige
The warmest of the medium toned neutrals, is HC-80 Bleeker Beige. While it can be considered a taupey beige, it carries a hint of gray to create a soft, subtle beige. This pairs well with creams and off whites, as well as warmer, more traditional colours like reds, olives and burnt oranges. It's also a colour that backdrops mahogany or reddish undertone wood furniture well!
OC-15 Baby Fawn
OC-15 Baby Fawn and HC-173 Edgecomb Gray are one in the same! This historical colour also found in the off-whites, is adeptly placed in both. It's one of the darkest off-whites you'll find in the off-white section, but maintains a light-to-medium tone within the historical colours. Truer to the name OC-15 Baby Fawn, in my opinion, is an ever so slightly flesh-pink tone you'd expect to see from a baby fawn indeed! It's a highly versatile greige; a soft, milky beige, that creates a blend of warmth and familiarity. These factors lend it to be a popular resale home colour.
---
Visiting from Canada🇨🇦?
Get Benjamin Moore Paints delivered right to your door.
---
CC-490 Stone Hearth
CC-490 Stone Hearth is a slightly darker neutral that leans a little toward the beige side. Having said that, light direction, and the amount of light in a space can affect this colour significantly. In Northern or Eastern facing rooms, it may draw on the gray side of the colour, whereas Southern or Western facing rooms will highlight the warm beige undertone. Conversely, lots of light will showcase a mid-tone depth, where the colour can become significantly darker in minimally lit spaces. This medium tone neutral is an ideal backdrop for muted shades, of all colour spectrums, as it doesn't lean too heavily toward a green or red undertone.
HC-172 Revere Pewter
For the longest time, HC-172 Revere Pewter has been Benjamin Moore's most popular colour! It's a tried and true neutral to the core. It's a perfect blend of beige and gray, to create a 'greige'. With a slight green undertone (if any), it pairs well with traditional browns and warm tones, but also just as well with warm grays. The blend of different colours in this hue, allow it to go grayer in cooler lighting, but picks up the warmth in warmer lighting.
OC-28 Collingwood
Also part of the off-whites, this transitional greige, leans to the lighter and grayer scale of the neutrals. With a fairly neutral undertone as well, it makes for a versatile colour for throughout the home. It compliments the in-trend grays, while maintaining a good balance with more traditional dark brown furniture. It's a friendly and elegant shade of gray that feels inviting yet fresh in many spaces.
---
Visiting from Canada🇨🇦?
Get Benjamin Moore Paints delivered right to your door.
---
CC-394 Boulevard
One of my favourite neutrals that falls under a greige, is the CC-394 Boulevard. It has a slight pink undertone with a dash of yellow that creates a modest mix! This creamy gray pairs well with other neutrals and stronger pops of colour. Whether its furniture or accessories that are dark, light or even metallic, it gracefully backdrops many different hues.
2111-50 Stone Harbour
This trendy colour is a mix between the warmth of CC-394 Boulevard and the 2017 colour 2112-50 Stormy Monday. Stemming from a brown-gray, it captures the warmth from the brown, but predominantly leans towards a gray. This balanced colour is also a fantastic medium neutral tone for a transitional style, that merges the browns and grays seamlessly. This violet undertone gray looks grayer under cool lighting, and warmer under warm temperature lighting, like South or West facing areas.
Stormy Monday
As part of the 2017 colour trends, this medium tone gray is a sober and modern colour for updated styles. The mix of blue and red undertones, gives the impression of a purple undertone gray, but coordinates better with cooler grays and red-undertone browns. Mixing pattern and contrast, makes this colour come alive, while layering similar neutrals like whites and lighter grays creates a streamlined and sleek impression.
---
Visiting from Canada🇨🇦?
Get Benjamin Moore Paints delivered right to your door.
---
HC-170 Stonington Gray
Stonington Gray is arguably one of my favourite neutrals. While it undoubtedly falls into the grays, it's one of the most neutral and true grays Benjamin Moore has, to offer! It's mix of blue and green undertones, allows for a more natural gray, rather than an exclusively cold gray. While HC-169 Coventry Gray is worth mentioning as a close runner up, it's certainly darker than the Stonington Gray and typically doesn't assimilate in dimly lit spaces as well. The HC-170 Stonington Gray pairs well with crisp whites to create a modern impression or warmer whites to soften the grays. Most importantly it coordinates flawlessly with charcoal grays like HC-168 Chelsea Gray or HC-166 Kendall Charcoal.
2121-40 Silver Half Dollar
While this colour could barely be considered a neutral, the strong blue undertones in this colour create a fresh and crisp gray that is in trend currently. It coordinates well with contrasting bold colours, and similar tone grays. It may perform better, to cool down a strongly lit Southern or Western exposed area, whereas the same undertone would be intensified in Northern or Eastern exposed spaces. It coordinates well with contrasting bold colours, and similar tone grays.
Goldilocks only had three options to choose from in her story, but there are 10 beautiful and perfectly neutral mid-toned colours to fulfill your own colour story!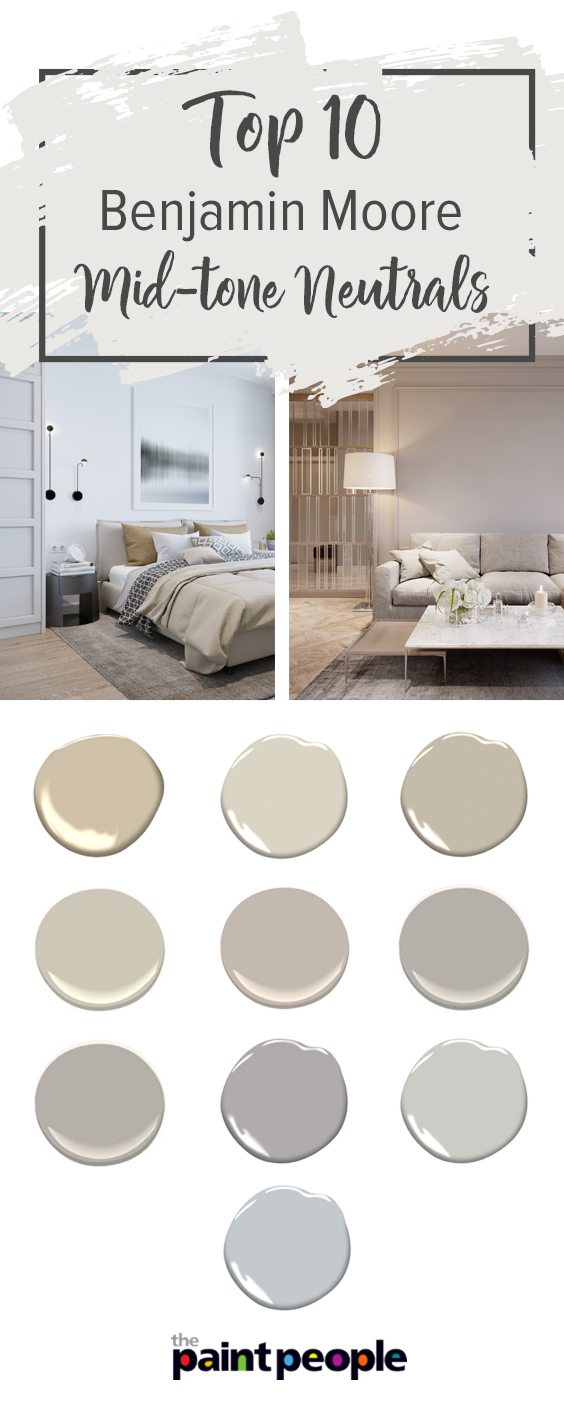 Visiting from Canada🇨🇦?
Get Benjamin Moore Paints delivered right to your door.